Later this year, following the risk assessment phase of the Resilient NJ Raritan River and Bay Communities process, we will work together on developing detailed solutions to increase resilience and reduce flood risk. Your input now will contribute to the development of solutions. Below is some useful information about the process. This information will evolve as we get closer to this phase of the project.
Possible Resilience-Building Approaches
Resilient NJ Raritan River and Bay Communities brings together people who live, work, and play in the region, as well as resilience experts, local leaders, community organizations, and regional infrastructure entities. Together, they are working to develop solutions to reduce flood risk and build resilience to improve quality of life now and in the future. These solutions may take many forms. They might create physical change we can see or they might improve our governmental decision making processes, improve our codes and standards, increase access to information, or all of the above and anything in between depending on what the data and people say is needed.
When it comes to building resilience, there is no one size fits all approach. Because there are many potential ways to reduce risk, a comprehensive strategy will require a mix of tools and strategies at various scales, including physical projects, policies, and programs. Through this process we will be working together to develop strategies to reduce flood risk. Below are some examples of what form these strategies might take, but the final action plan will ultimately be shaped through collaboration and engagement.
SCENARIOS FOR THE REGION TO ADDRESS FLOOD HAZARDS LIKELY WILL INVOLVE SOLUTIONS THAT FALL INTO ONE OR MORE OF THESE THREE GENERAL PATHWAYS:
Protect from the water
Adapt to the presence of water
Move away from the water
Truly building resilience requires a multifaceted approach. In this approach, physical measures and policy must work alongside efforts to increase social preparedness, awareness, and education around flood risk and how to manage it.

Protect from the Water:
Reduce flood hazards through water management infrastructure or policy and building practices that work to either keep water out or reduce the force of flood waters.
This pathway involves policy that might affect building codes or land use, as well as the construction and management of new infrastructure such as drainage channels, floodwalls, or levees that reduce the risk of flood waters entering or accumulating in an area. It can also include other measures to reduce the force of waves, such as breakwaters or wetlands. When major construction is required, this approach can entail high costs and often requires outside sources of funding such as federal grants. Construction of new flood protection infrastructure can have environmental impacts and is therefore best suited to areas that are densely settled and / or include vulnerable critical infrastructure.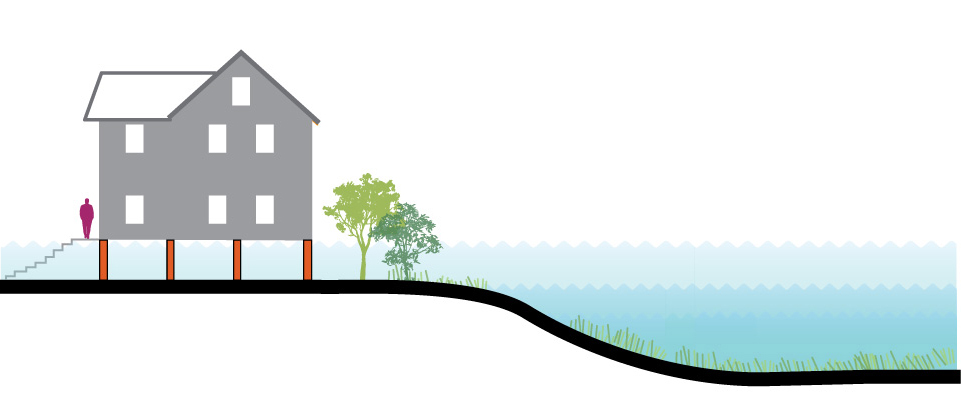 Adapt to the Presence of Water:
Reduce the impacts of flooding by improving coping and adaptive capacity for flooding through education and changes in personal and community behavior, policy, or through adapting buildings, infrastructure, and other assets to withstand impacts from flood waters.
This pathway involves helping reduce the negative effects of flooding on people and property when it occurs. The approach involves making changes in personal and community behaviors and policies and adapting buildings and infrastructure assets to better withstand flood waters. Strategies might include education, encouraging changes in behavior, and / or enacting new land use and building codes, as well as floodproofing or elevating assets. It can also include stormwater management to minimize the impacts of heavy rainfall. This approach is broadly applicable and can be used in combination with the flood risk reduction pathway described above.

MOVE AWAY FROM THE WATER:
Reduce exposure to flood risk by managing growth or investment in areas exposed to flood hazard and moving highly at-risk communities or assets.
This pathway involves moving highly vulnerable assets or buildings away from areas with high flood risk and potentially buying out private properties. It can also include zoning tools to manage growth and mandate setbacks and restoring ecological systems to manage flood waters. Other strategies may include managing investment and focusing incentives and investment in lower-risk areas. Because this approach can lead to the displacement of residents and tax losses, it should be implemented thoughtfully and with care. Nevertheless, unmanaged risk often leads to movement away from the water in an uncontrolled and detrimental way.
Get Involved
If you live or work in Carteret, Old Bridge, Perth Amboy, South Amboy, Sayreville, South River, or Woodbridge, you are the most important stakeholder. Most likely, you have already been impacted by flooding in some way and the long-term effects of Resilient NJ Raritan River and Bay Communities will affect your community. Your input is vitally important to support development of an effective roadmap for flood reduction that will also improve the daily quality of life in your region.
GET RESILIENT NJ PROJECT UPDATES!
You can easily get project updates by signing up via the form below, or simply leave a voicemail with your comments on our project hotline at 732-661-3808. Staffing constraints do not allow for callbacks, but all comments will be reviewed and considered. Look forward to hearing from you!
Tell us what is important to you!
Take this survey so you can tell us about the places you value most in your neighborhood or areas where you have seen flooding.
Download the Irys app on your mobile phone to report current or past flooding, share your input directly to the project team, and get regular project updates. You can also plot your thoughts on our map!