Resilient NJ
---
Raritan River and Bay Communities
Resilient NJ
---
Raritan River and Bay Communities
Resilient NJ
---
Raritan River and Bay Communities
EXPLORE THE RESILIENCE ACTION PLAN
This Action Plan represents two years of work developing an implementable resilience and adaptation action plan that provides a roadmap for addressing current and future flooding for the Raritan River and Bay Region.
The Action Plan is available in English and Spanish, and can be made available in other languages by request
This version reflects public comments received by October 2022. Additional public comments can be submitted through March 31, 2023.
LEARN MORE ABOUT FLOODING IN OUR REGION
by watching the flood resilience video series
Learn more about the region and its flood risk by exploring the About the Region and Risk sections of this website.
WHAT IS RESILIENT NJ RARITAN RIVER AND BAY COMMUNITIES?
The Resilient NJ Raritan River and Bay Communities program aims to develop and implement strategies to address flooding in the municipalities of Carteret, Old Bridge, Perth Amboy, South Amboy, Sayreville, South River, and Woodbridge. This joint effort between the municipalities, the New Jersey Department of Environmental Protection (NJDEP), Middlesex County, and the YMCAs of Metuchen, Edison, Woodbridge, and South Amboy provides an opportunity for the area to become more resilient and improve the quality of life for its more than 300,000 residents.
We invite you to follow us on Instagram @ResilientRRBC and visit this website periodically to learn about how you can participate in the Resilient NJ Raritan River and Bay Communities process and track the program's progress.
If you would like to receive period project updates, please sign up to join our email list below.
The Action Plan, released in October 2022, includes recommended strategies to increase resilience in the region. Comments on the Action Plan can be submitted through March 31, 2023.
Our previous reports, outreach materials, and other documents are included in our Resource Library.
MISSION
This mission statement may evolve over time as we receive more input from you and other people that could benefit or be affected by the program.
The mission of the Resilient NJ Raritan River and Bay Communities program is to develop and implement watershed-based strategies for reducing flood risk, increasing resilience, and achieving environmental restoration to help the multi-municipal region survive and thrive. The program will employ the best available data and inclusive engagement to create social, environmental, and economic benefits and bring value to all who will share in the region's future.
What is Resilient New Jersey?
Resilient New Jersey, administered through the NJDEP Bureau of Climate Resilience Planning, brings together planners, engineers, designers, and other experts to address flood- and climate-related hazards.
For more information on these other projects, visit resilient.nj.gov
Get Involved
Your input and involvement are critical to increasing the resilience of our communities. Follow us on social media and sign up to receive email updates to stay in the loop about ways you can get involved.
WHAT IS ALREADY BEING DONE?
Learn about projects and actions already underway to address flooding on the Solutions page.
WHAT IS AT RISK?
The Flood Impact Assessment outlines the potential impacts of flooding if no action is taken.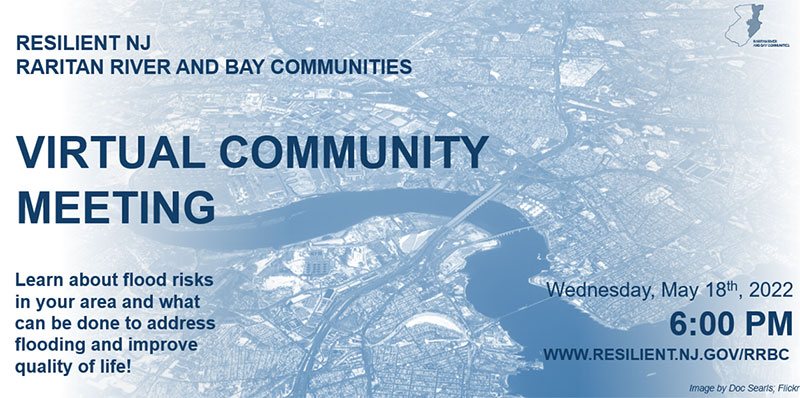 Our third Community Meeting was held on May 18th to advance the regional resilience action plan to reduce flood risks in Raritan River and Bay Communities: Carteret, Old Bridge, Perth Amboy, Sayreville, South Amboy, South River, and Woodbridge. The project team gave a...
read more